For years and years, really since Oprah had her daily show, I've contemplated the mantra "do what you love and the money will follow" – and since I have a deep desire to have some money so that I can buy things, eat, etc, I have wanted to understand what that means.
I think I've finally figured it out recently, but more on that in a minute.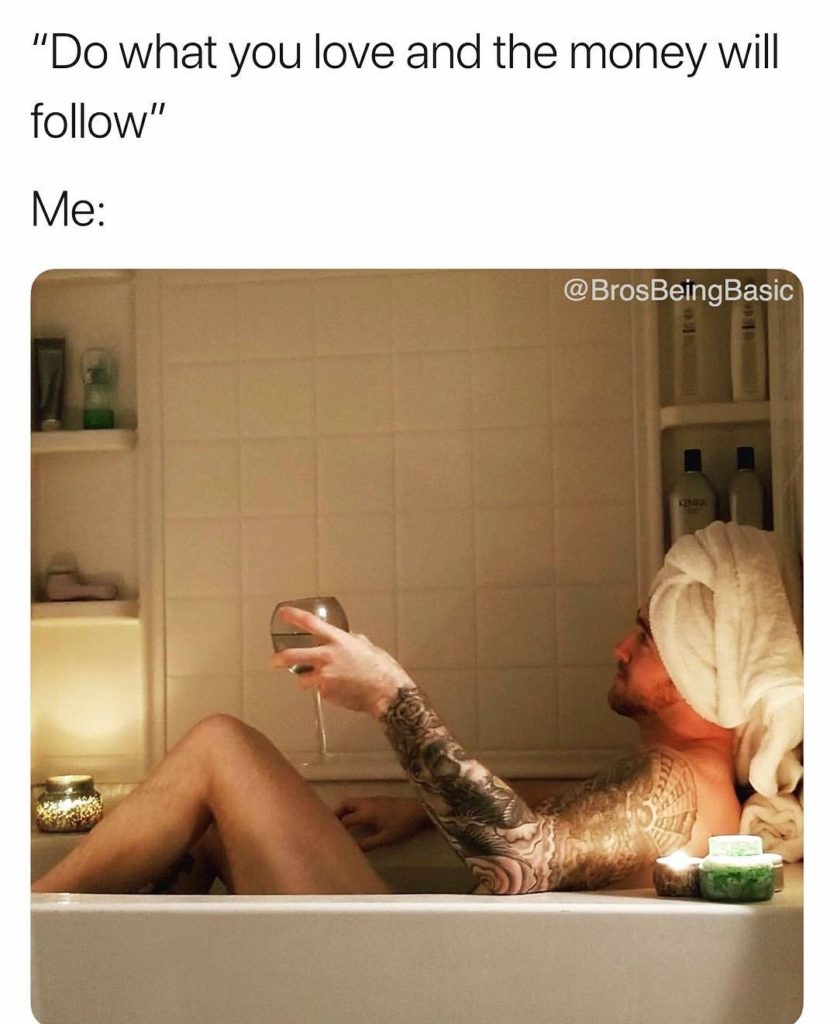 For all these years contemplating "do what you love and the money will follow" has honestly just triggered fear. If I stop what is making me money now and just focus on what I love then the safety net would be gone, and from my viewpoint everything would collapse real fast.
What I love to do is sit outside and listen to nature. I love to listen to music, I love to travel, I love to cook gourmet meals and share them with friends.
When I think about quitting what makes me money and just sitting in nature I feel fear rising inside of me. So what could the gurus possible mean by "do what you love and the money will follow"? I love sitting in nature, Oprah, now send me money.
Believe it or not, she's never responded to my request.
I was raised by a single mother that dropped out of high school at the age of 15. As you can imagine she did not have much time on her hands except to work work work and even then she barely could make ends meet. She taught me that you work hard first, and if you are lucky enough to have any extra time on your hands, you cleaned the house. "Do what you love" never ever came into the equation.
Years ago I wrote about how being able to type fast had pigeon holed me into working in offices as an administrative assistant. I type like hyper super fast and accurately and back then it was valued so much that I was able to get a good job no matter where i lived. And i can even admit that i love typing. So you could say that I was doing what I love, "typing", and money did follow – but why then did I seem to always long to be doing something else?
I think that I've finally figured out what the great thinkers have been trying to say, it's not "do what you love and the money will follow" – it's actually "BE who you ARE, and the money will follow". WHAT you do isn't as important as being true to yourself and being authentic in your thoughts, actions, decisions, etc.
Be Who You Are and the Money Will Follow
For a long while I've worked as a professional in the craft industry and I could (but I won't bore you) chart the ups and downs of that career and I can say with certainty that the ups were periods where I was being the best ME that I could be, and the downward trajectories and "lows" were when I was trying to be who I thought the industry wanted me to be.
I love crafting so through all those highs and lows I was always DOING what I love – but the money only followed when I was doing that and at the same time BEING authentically me. Being my true self is what released any resistance to success and success came easily.
I often get emails from designers "just starting out" and I can hear it in their tone that they want me to teach them what I did to be successful. If I can give any advice to anyone struggling to succeed in their careers it's this: BE the most YOU you can be and you will succeed. No matter what your job or career is, do your best to not even notice what others are doing, just be who you are, and the money will follow.