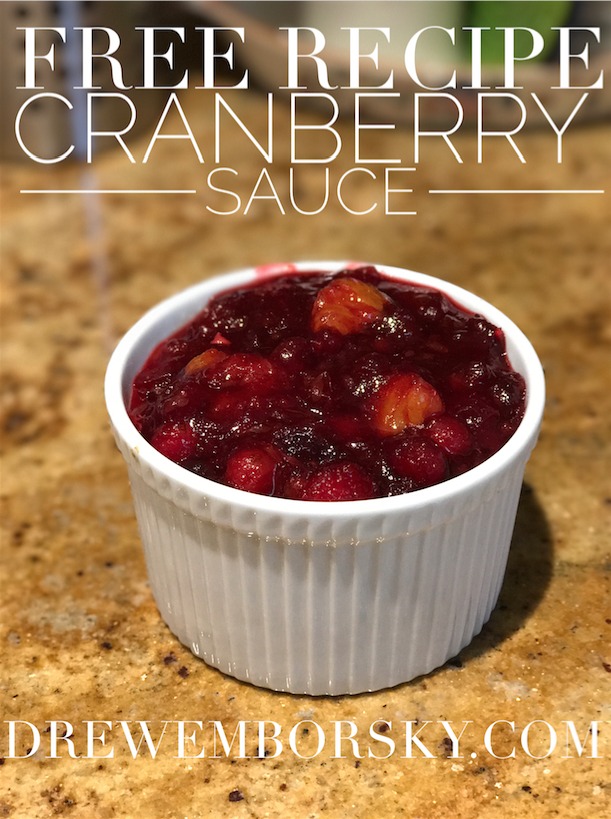 Cranberry Sauce
©2017 Drew Emborsky
Ingredients
4 c fresh cranberries (that's 1 – 12 oz bag) rinsed
1 c orange juice
1 c sugar
1/4 c red onion minced
1 tsp fresh ginger, minced (or 1/4 tsp ground ginger)
Dash nutmeg
1 can (11 oz) mandarin oranges drained (save the juice)
Directions
Combine orange juice, reserved mandarin juice, and half of the sugar in a medium saucepan, stir over medium heat until sugar is dissolved
Stir in all the cranberries and bring to the boil – reduce heat and simmer for 15 minutes – gently stirring occasionally – or until the berries have popped
Remove from heat and stir in remaining sugar, onion, ginger, and nutmeg. Gently fold in the mandarin oranges.
Chill at least one hour before serving – even better if you let it chill in the fridge overnight!
Makes approx 4 c cranberry sauce
Do no copy or distribute this recipe – but please share the link with all your friends! Click the green Print Friendly button to print (with or without pics) or save as a PDF for your own use.