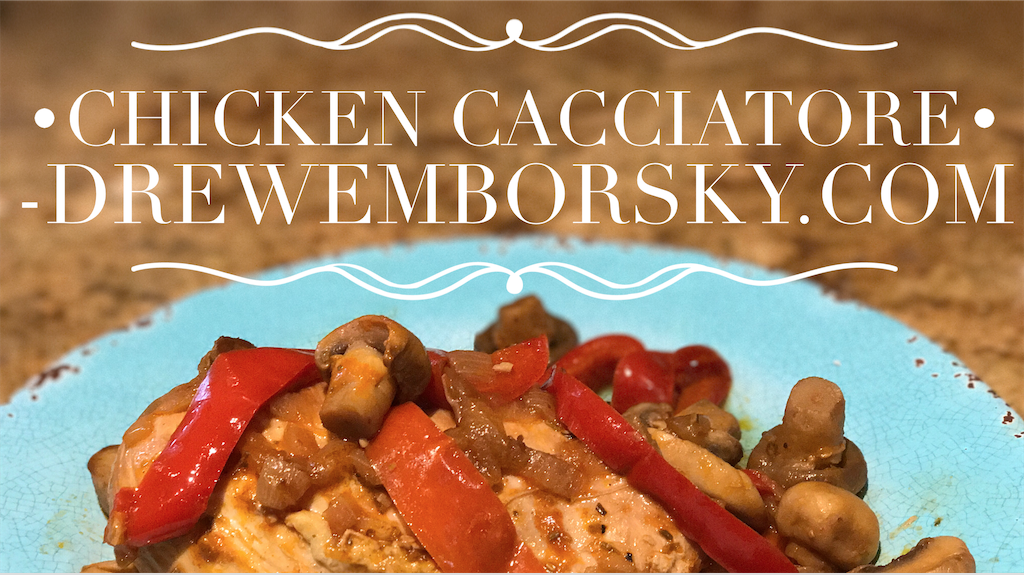 I'm all about having a big pot of food ready for either a crowd, or just to have leftovers for a couple of days. My version of Chicken Cacciatore is simple and SUPER flavorful, and makes great leftovers.
Chicken Cacciatore
©2017 Drew Emborsky
Ingredients
6 lbs boneless skinless chicken breast
2 yellow onions coarsely chopped
2 bay leaves (I like fresh but dried work well)
2 tsp dried rosemary
2 tsp dried oregano
8 oz fresh button mushrooms (whole)
8 oz fresh button mushrooms (sliced)
2 red bell peppers cut into strips
4 cloves minced garlic (y'all, I just buy it minced, whatevs)
1 cup red wine
16 oz tomato sauce
4 cups chicken stock (I prefer salt free)
Olive oil
Salt & Pepper (I prefer a blend like Montreal Steak Seasoning)
Special equipment
8 qt stovetop/oven safe pan with lid
Directions
Preheat oven to 250º f (121º c)
Thoroughly wash and dry chicken breasts, then season them with salt & pepper (or Montreal Steak Seasoning). Heat pan over med high (pan is ready when you drop a small droplet of water in the pan and it dances across the surface – this helps make the pan non-stick), add oil then the chicken and brown on each side for 5 minutes. Remove from pan and set aside, cover to help keep it from cooling off too much.
While the chicken is cooking prepare the rest of the ingredients.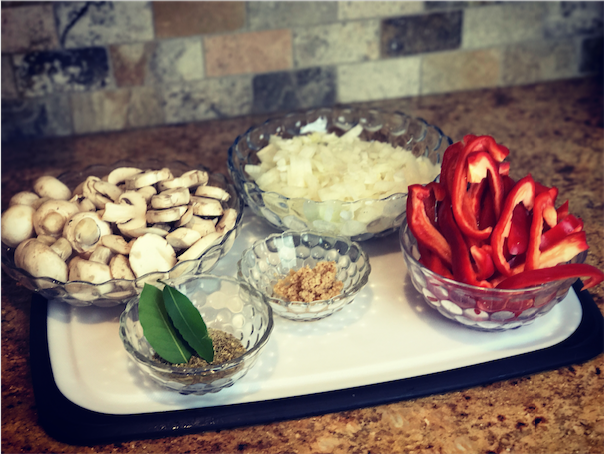 After removing the chicken use the same pan and add the onion, bay leaves, rosemary and oregano – sauté until the onion is a golden brown color (about 10 minutes) – use your spatula to scrape up all the yummy bits of chicken that may have stuck to the bottom.
Add the mushrooms (both the whole and the sliced) and the peppers and sauté for another 15 minutes.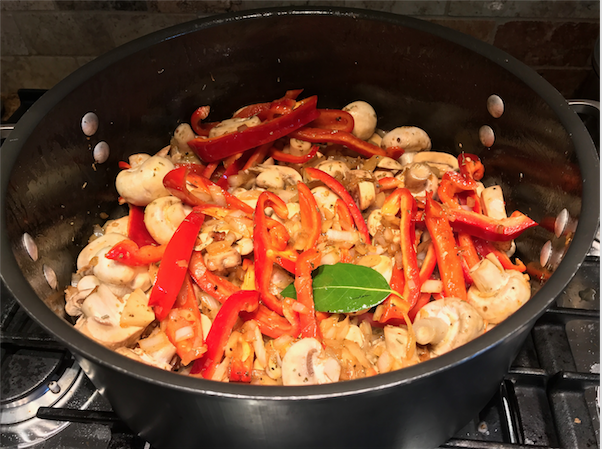 Add the garlic, wine, chicken stock and tomato sauce to the pan and bring to the boil.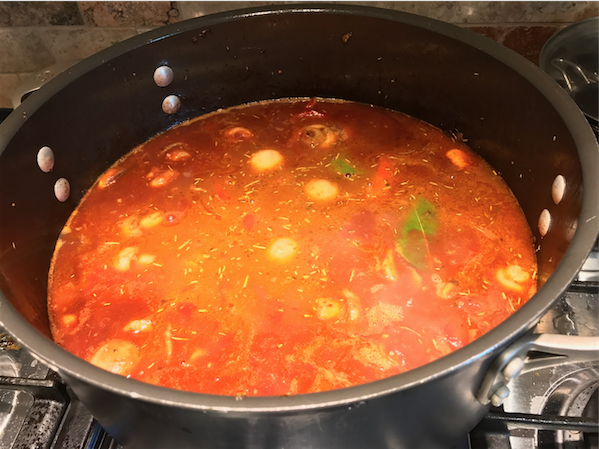 Reduce to low, put the chicken back in the pan, cover and simmer for 15 minutes.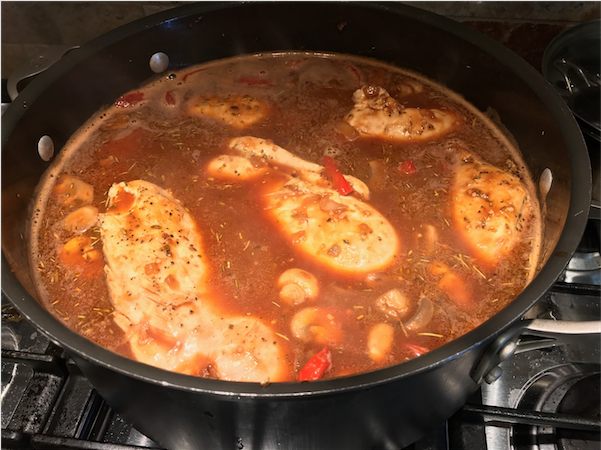 Place pan in the oven and bake for another 30 minutes or until the internal temperature of the chicken reaches 180 degrees with a meat thermometer.
Serve with a side of rice and green vegetables!
Serves 6-12
Do no copy or distribute this recipe – but please share the link with all your friends! Click the green Print Friendly button to print (with or without pics) or save as a PDF for your own use.