Like many of my friends I have been caught up in the Marie Kondo tidying up craze since her book first came out in 2014:
(Click the image of the book to go to my affiliate Amazon page)
I've been hauling bags of stuff to my favorite charity for a long time now and folding my clothes so that they can stand up – I guess you could say that I embraced her philosophy without hesitation.
Basically Kondo is saying that your home should be filled with only items that you love.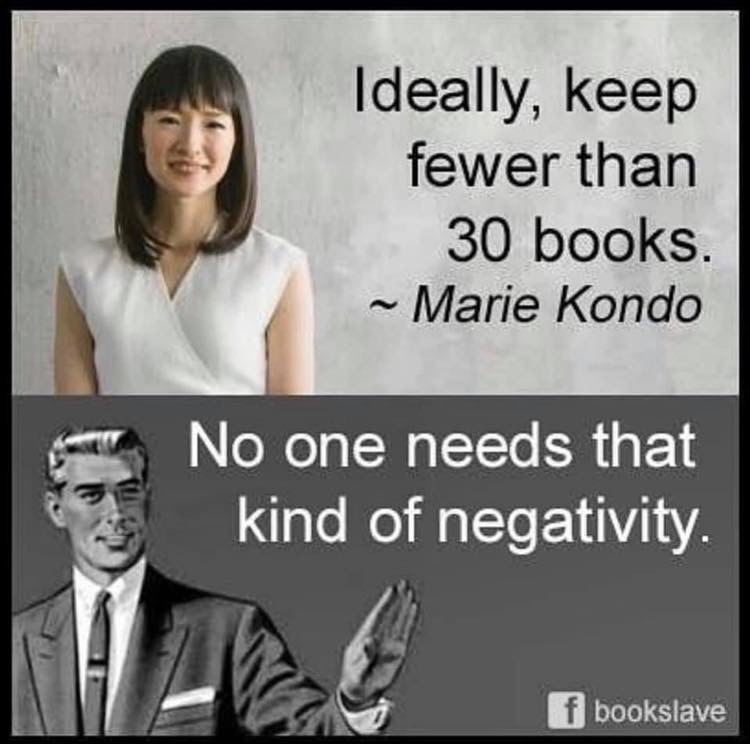 Now that Kondo's Netflix series on tidying up is out, a lot more people are being exposed to the concept of only having things around the house that they love. In the book and in the series she says that you should hold the item and see if it "sparks joy" and if it doesn't then you should thank it for being in your life, then release it by passing it on to others where it might spark joy for them.
This concept seems to be the tripping point for a lot of people. We've seen the show Hoarders and we've seen people wailing as strangers shovel out the trash from their homes. I have enough experience in the television industry to say without a doubt that they feature the most extreme hoarding situations they can find, they stress the homeowners out to get good reactions on camera, and the editing process makes it the most "entertaining" it can possibly be.
Google frankenediting some time. Editors are often responsible for creating a storyline out of thin air between reality casts.
Anywho, I feel like many people are reacting to the Kondo way of tidying up with preconceived notions of what is going to be expected of them. Yes you are probably going to toss a ton of stuff, BUT you are only going to toss what you don't absolutely love. No one is saying you should just get rid of everything and start over.
Imagine the end result: every room you walk into, no matter which way you look, you will be looking at something that makes you happy. What could be better than that?
Nostalgia Isn't Necessarily Joy
When my mom passed away I got tricked into taking a very large percentage of her household. As a result there are items that were in her house (that no one else in the family wanted) from when I was growing up that are literally in every room of my house. Now that may sound sweet, but those were her things, many of them she obtained before I was even born. I'm sure they may have sparked joy for her at some point; but when I look at them it's like looking at other's people's stuff around my house.
Imagine someone coming into your home and speckling their trinkets around your home, then you have to look at them for the rest of your life, and worse yet, dust them continuously.
Sometimes when I look at a knick-knack of hers I think "this could make someone else very happy to have" and I can't help but wonder why I'm holding on to it still. It's not actually HER, so by letting it go I'm not letting HER go again. Maybe I'll take photographs and make a digital album of all these nostalgic "things" and keep that simply for nostalgia' s sake, but i certainly don't need to hold on to items that belonged to someone else.
When I finish writing this post, the next thing on my to-do list today is to load up the truck with items that "didn't make the cut" when we cleaned out the laundry room last weekend. Enough stuff was edited out that I had room to set up a table for folding clothes AND get a laundry sorter. By letting go of the items that didn't bring me joy, the laundry room can now fulfill it's purpose, and THAT brings me much joy.